WWWWWH with Bill Bruce
31 January 2012, By: Pokerjunkie.com
Today in the Poker Junkie interview we hear from Bill Bruce, General Manager of leading poker tournament staffing group Poker Tournament Consultants.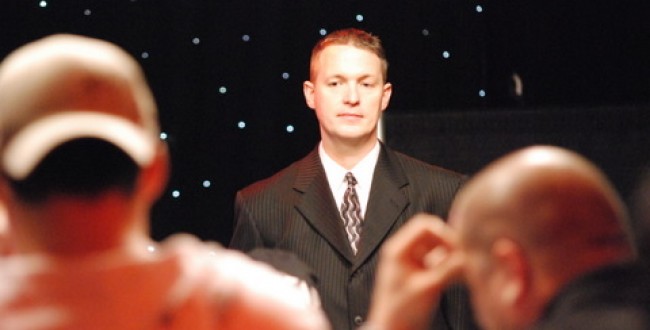 Today in the Poker Junkie interview we hear from Bill Bruce, General Manager of leading poker tournament staffing group Poker Tournament Consultants.
Poker Junkie: How did you get started in poker and what is your current role today?
Bill Bruce: I started in the industry in 1994 in Southern California at a small card room. A couple of years later I moved to a large Indian Casino that was opening up.
I stayed there for 11 years as it grew into a 4 Diamond resort. In 2006 the WSOP invited me to join their staff. Currently I still work with the WSOP and I am the General Manager of Poker Tournament Consultants.
PJ: When was Poker Tournament Consultants founded and tell us a bit about the company.
Bill Bruce: In 2007 Jimmy Sommerfeld contacted me about forming a company that could staff large tournaments across the country. He was the Tournament Director for several events at different locations.
Some locations provided dealers and supervisors, but in some cases the staff was brought in on an event by event basis. Under this format the quality of dealers and supervisors varied at each event.
Jimmy wanted a company that would provide the entire staffing for a tournament. He wanted the best, most experienced personnel at each position. He envisioned a central staff for each tournament he directed.
He wanted players that choose to play his tournaments to know they would get the best tournament with a quality staff. Poker Tournament Consultants was born. Casinos loved the idea of hiring a company that would bring in a professional staff that would make their property shine and handle all the details.
PJ: Who have been your biggest influences in poker, both as a player and on the business side of things?
Bill Bruce: I've been lucky enough to work with the best in the business here in the US and Internationally. I have had so many great colleagues and have learned a little from each. I do not want to leave anyone out so I am hesitant to name specific individuals. However, here are two:
Jimmy Sommerfeld has taught me a lot about thinking big and trying new ideas. He was willing to test and try new things in poker that we now view as standard and he always thinks big.
Jack Effel has taught me about professionalism and delegation. Jack hired me for the WSOP when I first started. He handles the largest tournament in the world each summer and makes it look easy. He is always the consummate professional.
My biggest influences as a player were the players that had good bankroll management skills. I learned to keep good records and treat the game as one big session.
PJ: What is your fondest memory working with Jimmy Sommerfeld?
Bill Bruce: I have a lot of fond memories with Jimmy. He tells a lot of stories and most of them are pretty humorous. I've been a part of some and heard most of them. A story he doesn't tell however says most about the man.
At the WSOP one year he met a homeless man. He saw him every day on the way to work at the Rio. At the end of the summer he invited him to live with Jimmy back in Mississippi. He didn't know this man at all, he just thought it was the right thing to do. That man stayed with Jimmy for over 1 year.
PJ: Why do you feel events such as the World Series of Poker Circuit and the WSOP in general have continued to grow in spite of Black Friday, the overall economy, etc?
Bill Bruce: Black Friday has definitely hurt poker in the U.S. However, we have seen an increase year over year at WSOP Circuit events and other events Poker Tournament Consultants are involved with across the nation. Players still want to play poker and since they can't play online they come to us for live tournaments.
The US economy has had some trials lately and the consumer has less discretionary income available to spend on entertainment and that includes poker. Therefore, the poker player is choosing more wisely where to play which only benefits us as we offer one of the best products on the market whether it be a WSOP Circuit event or another event we are involved with.
PJ: Where can we expect to see Poker Tournament Consultants this year in addition the WSOP-C stops listed on your website?
Bill Bruce: Our calendar is pretty full. We staff the majority of the WSOP Circuit events as well as some regional tournaments throughout the country. Each year our schedule has grown as more Circuit stops are added and other properties seek to develop new tournaments.
We are working with several new properties to bring even more events to poker players that will be staffed by Poker Tournament Consultants. We have a very talented staff and we are looking forward to the upcoming year.